Beschreibung
A sleek and modern design
This screen can't help but get noticed. Beautifully finished in a hand rubbed automotive lacquer, Cabaret offers a bold and stylish look. An equally impressive 16K+ imaging surface also gives Cabaret unequaled attention — on or off. Choose a standard color or match your Cabaret to any color, limited only to your imagination.
This screen is used most commonly in:
A statement element in any room
The pinnacle retractable screen enclosure, Cabaret is designed to complement any modern space. The curved case profile is flawlessly executed and finished in a high gloss, automotive lacquer. Pick any current or classic car finish, or go with standard glossy Jet Black, Cosmic White, Scandalous Red, or Crater Lake Blue. This is a stunning machine.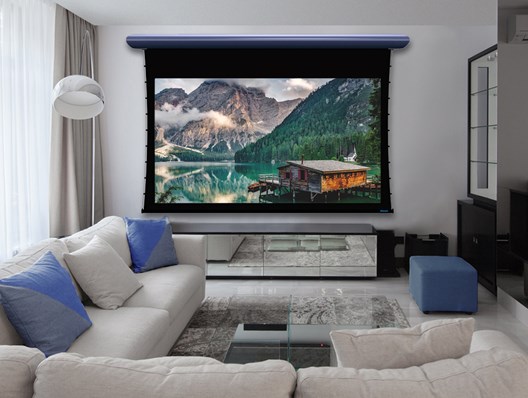 A built-in LED wall wash lighting system
The LED optional lighting system can bring added contrast to the screen image as well as add a visual aesthetic to any room. Both the low voltage control and lighting features are remote controlled, or they can be easily integrated into a control system of your choice.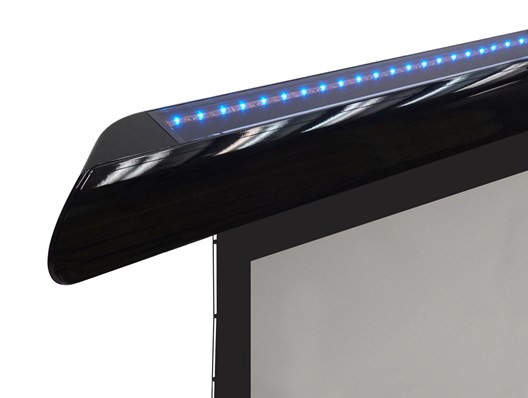 Available in a wall to wall soffit configuration
Americana takes the sleek Cabaret case and extends it to join together two opposing walls without interruption. This strikingly visual element also houses a reference quality 16k+ screen surface.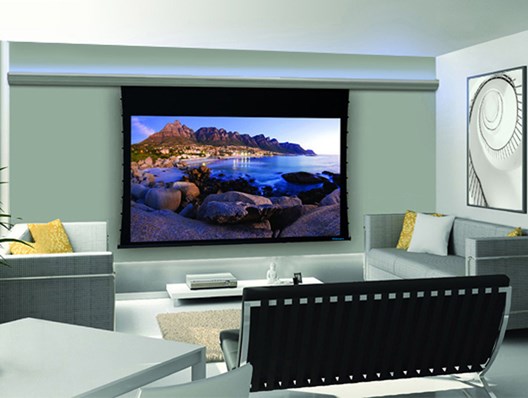 Can be equipped with cantilever wall brackets
Custom wall brackets allow the screen to be positioned away from the wall so deployment does not interfere with wall decor. Soundly engineered and built by hand, this screen is a work of art.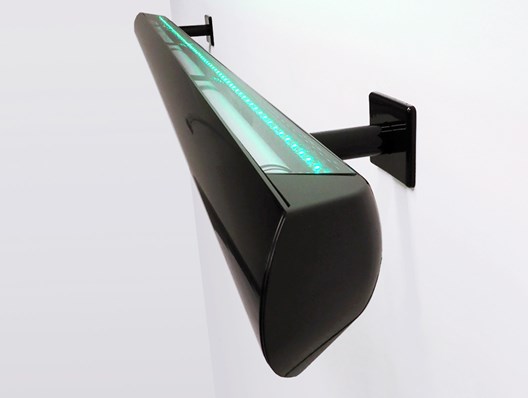 Are you more understated?
Cabaret is also available in a Jet Black  or Cosmic White, satin finish. Additionally, satin finishes do not require a trip to the auto body shop. The turnaround time is much quicker. Let your personal preference guide you as you choose how to complete this seemingly work of art.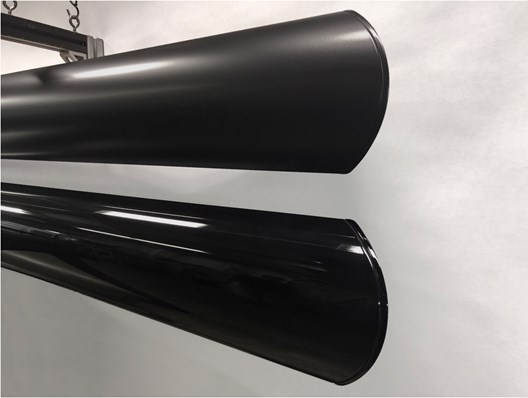 Phantom HALR
Gain: 1.0, Max size: 40′ x 90′


A stunning solution for high ambient light environments
Phantom HALR is a flexible, front projection, high ambient light rejection screen material that offers excellent ambient light rejecting capabilities from every angle. Unlike other manufacturers' offerings, Phantom HALR is available in any image size up to 40 by 90 feet — completely seamless. It is the only black screen on the market that can be perforated for acoustical transparency, including Stewart's exclusive MicroPerf X² THX Ultra or CinemaPerf options. For installation versatility, Phantom HALR can be configured with any of Stewart's ElectriScreen or fixed frame models. Phantom HALR is not susceptible to color shift and will calibrate out to REC 2020 or REC 709 without obvious color aberrations that skew the primary and secondary colors. A stunning solution, Phantom HALR will provide excellent image uniformity and fidelity in any high ambient light application. An exceptional viewing experience, day or night.
Specs
| | |
| --- | --- |
| Material Type | Flexible Front |
| Maximum Size | 40′(h) 90′(w) |
| Peak Gain | 1.0 |
| Half Gain | 30° |
| Ambient Light Rejection Value | 82% |
| Ambient Light Resistance | Excellent |
| Minimum Throw Distance | 1.6 x Image Width |
| Edge Blending Properties | N/A |
| Passive 3D use | No |
| Lay Flat Quality | Excellent |
| Flame Resistance | Yes |
| Can be Perforated | Yes |